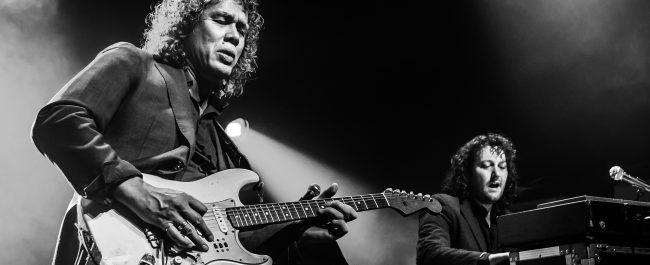 Erwin Java stopt met King of the World
Na zes jaar samenwerking zal onze gitarist en mede-oprichter Erwin Java stoppen met King of the World. Hij heeft besloten zich te richten op activiteiten waaronder die rond zijn solo-project "Keepin' it Real" en de theatertour  "Johan Derksen keeps the blues alive" die in ieder geval nog tot medio 2019 doorloopt.
King of the World gaat door met een tijdelijke vervanger op gitaar waarna we ons gaan beraden over de invulling van Erwin's plek.
Samen met Erwin zijn we nog te zien op 9 maart in Vanslag te Borger (er zijn nog enkele kaarten beschikbaar!) en op 8 April aanstaande twee maal in de Amer te Amen (beide shows uitverkocht!). De plek waar het zes jaar geleden voor de band allemaal begon.
Middels een een extra ingelast concert biedt het Ribs & Bluesfestival in Raalte deze bezetting van King of the World de gelegenheid om op eerste Pinksterdag (20 mei aanstaande) nog eenmaal van zich te laten horen in een grootse entourage.
Wij danken Erwin voor de fantastische tijd die we samen hebben gehad en wensen hem alle succes met zijn toekomstige activiteiten. (Ruud, Fokke en Govert)