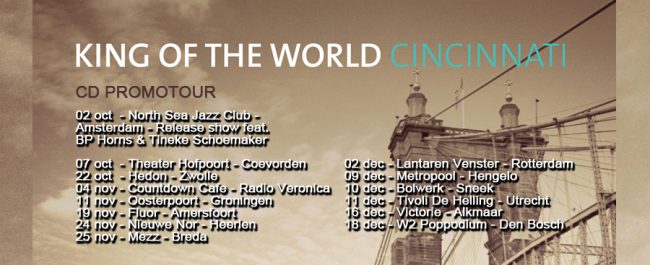 New CD out Sept 30th & promotour
" Cincinnati " is the titel of the fourth album of King of the World that will be released September 30th 2016. They took their chance when they got the opportunity to work with top producer Erwin Musper (Van Halen, Scorpions, Def Leppard, David Bowie, Mick Jagger) The first of May they took of to Cincinnati , Ohio (USA) to record thirteen songs in the Bamboo Room Studio's in ten days. The choice for this studio was an easy one. Al band members wanted to record in the States, the home of blues/roots music, where they al got their inspiration and love for music. Twelve originals and one cover of "Life in the fast lane" of the Eagles….and on some of the songs there's even horns and female backing vocals!
Sunday Oct 2nd will be the release show in the North Sea Jazz Club  Amsterdam.