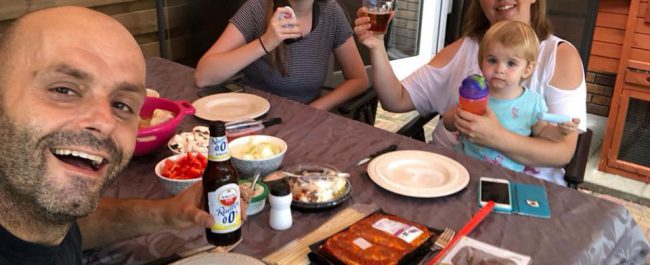 Crowdfund Arjan (soundman KOTW)
Help out and donate here:
Crowdfund actie Arjan (soundman KOTW)
Let's help Arjan, Anna and kids despite all the misery to a bright future.
Arjan the sound engineer of King of the World and many others is a man who is always there for you, a welcome guest who will not easily say "no". Those who follow him on Facebook know what Arjan and his family have had to face in recent years with finally LONG CANCER!
First a fire where he € 100,000 euro was not paid out and had to wriggle in all possible corners (debt restructuring) to solve this to € 25,000.00 euro.
Hopeful 2020 started and with a fine filled agenda,
February 2020 a strange lump on the hand and a hospital visit which of course did not benefit his work. Still went ahead and on March 12 cancelled all shows because of Corona.
June 2020 A sore stuffy nose is finally taken care of, hospitalization and hope this will be the last physical problem.
October 28, 2020 Esophageal and stomach problems…… Arjan got stomach acid in his lungs and was unbearable, he got stuffy and had to cough a lot, an examination follows!
22 January 2021 Still having a lot of trouble with his stomach and it turns out to be a small rupture in the diaphragm, still very short of breath and unable to do much exercise.
February 24, 2021 Still going to "think around" to support his family and do a course VCA and then start working at Elize in Grijpskerk.
March 18, 2021 BAD NEWS
After all the health problems last period and examinations Arjan has the result: LONG CANCER.  No metastases but needs to be treated immediately.
With this funding I want to help Arjan and his family to recover at home in peace after the hospital and to have no financial stress.
With an approximate €1,500.00 shortfall each month he has been trying to make ends meet along with his family…… let us help him !!!
Can you spare a little more or a little less, anything is welcome and let's hope we can help this fine fellow a little in the right direction.
Help out and donate here: