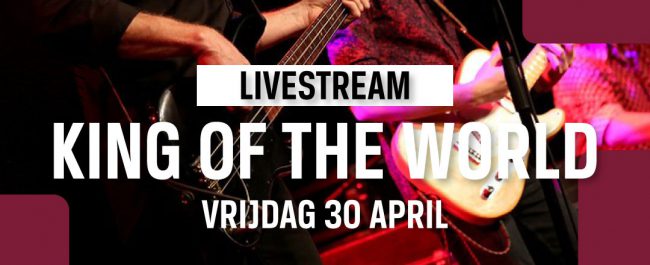 Live stream Bibelot Vrijdag 21.00 uur
?????????:
King of the World
livestream op vrijdag 30 april om 21:00 uur | De volledige uitzending is te bekijken via ons YouTube kanaal.
• Over
King of the World
: In korte tijd bouwde deze band een dijk van een reputatie op in het binnen- én buitenlandse bluescircuit. Albums als 'Can't Go Home', 'KOTW' en 'Live at Paradiso', 'Cincinnati' en 'Connected' scoorde hoge ogen bij menig roots en blues liefhebber. Dit resulteerde in diverse optredens op onder andere North Sea Jazz festival, Ribs 'n Blues, Paradiso en Hedon. In 2019 presenteerde de band zijn nieuwe album in onze Power Stage, nu zijn de heren terug met een bijzondere reden. Bereid je voor op een heerlijk, pittige bluesavond!
Dit concert staat in teken van een crowdfunding actie voor de ernstige zieke geluidsman van de band, Arjan van Dijk. Wil je graag helpen? Bekijk de actie dan hier:
https://bit.ly/3tUOdG6