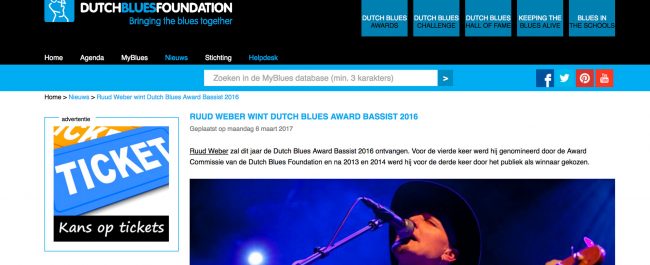 Ruud Weber "Dutch Blues Bassist 2016"
Ruud Weber zal dit jaar de Dutch Blues Award Bassist 2016 ontvangen. Voor de vierde keer werd hij genomineerd door de Award Commissie van de Dutch Blues Foundation en na 2013 en 2014 werd hij voor de derde keer door het publiek als winnaar gekozen. Ruud Weber heeft een lange staat van nationale en internationale dienst, maar is bij het grote publiek vooral bekend geworden als zanger, bassist en componist van King of The World.
Op het door de band in 2016 uitgebrachte album 'Cincinnati', levert Weber als componist een niet te onderschatten bijdrage. Van de dertien nummers zijn er twaalf door Ruud al dan niet in samenwerking met de band, geschreven. Tijdens live optredens waar het plezier en vakmanschap vanaf stralen, valt vooral de soulvolle stem in combinatie met de solide baspartijen op.
Wanneer de Award zal worden uitgereikt zal zo spoedig mogelijk bekend worden gemaakt.