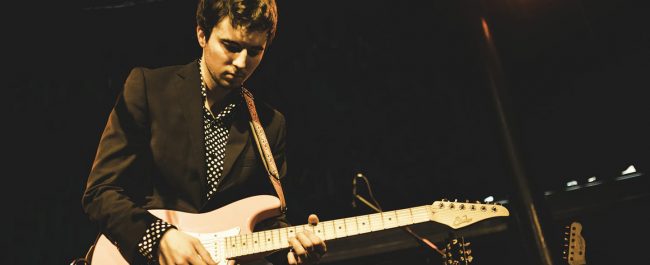 Nieuwe gitarist King of the World Stef Delbaere
Met trots presenteren wij onze nieuwe gitarist Stef Delbaere. Op zoek naar de magie tussen ons en een nieuw bandlid eindigden we in België waar we dit super talent vonden. Met slechts vierentwintig jaar is hij de gitarist die King of the World weer aanvult tot een geheel.
Opgegroeid tussen de jazz en blues platen van zijn vader ontwikkelde hij zijn liefde voor blues, roots en rock muziek. Stef begon op achtjarige leeftijd gitaar te spelen en deed zijn eerste optredens op zijn veertiende. Hij werkte zich op in België in de rock/blues scene en speelde daar bij verschillende rock/blues bands waaronder The Vipers. Met hen deelde hij het podium met oa. Deep Purple, Slade, Uriah Heep en Status Quo. In 2013 ging hij studeren aan het Rotterdams conservatorium waar hij in 2017 cum laude afstudeerde. In Rotterdam deelde hij het podium met oa. Cory Henry, Jason Lindner, Marcus Miller en deed daarnaast sessie werk in België en Nederland met oa. Jared Grant, Belle Perez, Shirma Rouse e.v.a.
Hier een voorproefje van Stef Delbaere samen met the Codarts Pop Orchestra.
https://www.youtube.com/watch?v=d7CBL61QN8A
We zijn reeds begonnen met het schrijven van materiaal voor de nieuwe CD van King of the World die medio 2019 zal uitkomen. Vanaf januari doen we een aantal try-outs met nieuwe gitarist en nieuwe nummers. De eerste shows zijn reeds bevestigd.
Volg ons voor nieuws en meer shows via onze website, facebook of schrijf je in voor onze mailinglijst
(Ruud, Govert, Stef en Fokke)